Disclaimer:
This is a user generated content submitted by a member of the WriteUpCafe Community. The views and writings here reflect that of the author and not of WriteUpCafe. If you have any complaints regarding this post kindly
report
it to us.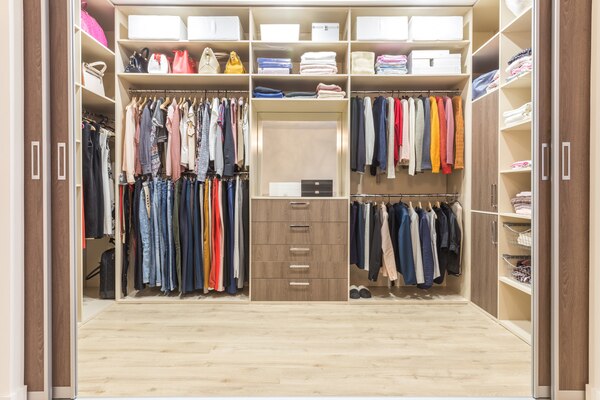 Wardrobes are essential in every house. They hold clothes, shoes, accessories, and all sorts of personal belongings. Choosing the right style is crucial so that you can organize your items nicely and it fits with the rest of the house. No matter if you are currently renovating the home or want to invest in new furniture pieces, don't hesitate about built-in fitted wardrobes. Why? Because you obtain a custom design that is made to fit the exact measurements in the room, and you can personalize the interior as well.
A custom wardrobe is a highly desired item since it has the right amount of space, and you can add the selected racks, shelves, hanging space, and drawers. Not to mention you get to decide on the materials used, style, decorative elements, types of doors if you want mirrors added, and more. It is the perfect occasion to treat yourself and your clothes with a furniture element that allows you to proudly display your belongings.
Why Built-in Fitted Wardrobes
Perhaps most people go to shops to purchase wardrobes. They choose pre-fabricated ones because they don't have to worry about design and installation. However, this does not mean they fit perfectly and that you obtain the best quality regarding materials and craftsmanship. On the contrary, being pre-made, there is less attention to detail, and after a couple of months and years, you will see how they tend to break, and the mechanisms are not as sturdy as expected. Built-in fitted wardrobes are designed according to your specifications.
Freestanding wardrobes have much-unused space, either up to the ceiling or on the sides. That space is wasted, and it shouldn't be the case. Customized models are designed in such a manner to use the maximum space because you will place something at the top of the wardrobe, perhaps clothes out of season or other items you don't need daily. You can consider the belongings you have, the types of clothes and shoes, and what you want to keep inside, and designers stand at your disposal to obtain the best result.
Another great advantage of a custom wardrobe is organization. Wouldn't you like to have everything nicely placed inside? Interiors are flexible, and you can provide space for everything, including bed linen, towels, shoes, bags, and accessories. Hanger bars come in handy when you have shirts and trousers that need to stay in a loose position. If you want further customization, designers can add shelves and railings that can be repositioned however you want.
More Design Freedom 
Shopping for the right wardrobe takes time, especially if you need to go to different furniture stores, take measurements, and find the right style, color combination, and price. Not to mention you want to ensure it fits through your doors and can be installed in the room. A custom wardrobe is different from this point of view because professionals will design it in such a way to fit perfectly in your home and have all the necessary accessories.
Together you sit down and discuss all details, starting with the measurements, material, color, texture, partitions inside, gloss or matte finish, and more. The model must turn out exactly how you imagined. It is up to you if you want sliding or hinged doors. To get inspiration, you can go through catalogs with previously designed models or look online and bring your ideas to the table.
Fit Awkward Spaces
Do you have an awkward space where you must place the wardrobe? Maybe you think it is impossible and lose hope, but it shouldn't be the case. Built-in fitted wardrobes are tailored to fit every space, including corners, alcoves, and sloping eaves. If you don't have plenty of room to open doors, don't hesitate about sliding designs. These are very practical and intuitive. Sliding doors are easy to use and highly durable.
No matter how small or spacious your house is, the right design awaits to be accommodated inside. A custom wardrobe is a significant investment, being built to last. You don't have to worry about getting a new wardrobe after a couple of years because the current one is not meeting your expectations. Every home with a custom design is more appealing to prospective buyers if you want to sell the property at some point.
Respecting the Budget  
Whenever you make an investment and buy furniture in the house or decorate the place entirely, it is highly encouraged to have a budget in mind. This way, you know what you can afford and can be realistic. When you discuss with a specialist regarding a custom wardrobe, point out your budget and see the available options. The designer will tell you how you can stay within the budget while at the same time achieving what you want.
Built-in fitted wardrobes are more affordable than you think. All costs can be balanced with suitable customization options. You don't have to decide what is available in stores, assuming that all customized furniture pieces are out of your budget. It always helps to request quotes from specialized businesses because you will be surprised. Quality is not even compromised, and installation services are always appreciated.
Fast and Easy Maintenance
For some, cleaning around the house is a pleasure, while for others is a chore. How about simplifying the process? Built-in fitted wardrobes are easier to maintain; they don't collect so much dust because there are no extra gaps, and you don't have to climb on top of the wardrobe to sweep it. Don't risk falling for the sake of spring cleaning.
The main idea is that a custom wardrobe brings excellent value to your home and life. You can keep everything nicely organized, and you don't have to compromise on space or budget. You can decide on the perfect design with the right specialists by your side to make sure it complements the style of your home. Every time you open the doors, you will be glad to see all your clothes and belonging in great shape and easy to reach.