Disclaimer:
This is a user generated content submitted by a member of the WriteUpCafe Community. The views and writings here reflect that of the author and not of WriteUpCafe. If you have any complaints regarding this post kindly
report
it to us.

Space in the house is never enough, but with some imagination, we can create wardrobes or small closets in locations we would never have imagined. Which? The corridor, for example! The passageway, usually not used, will become our "blank canvas" to design ad hoc built in wardrobes ready to accommodate everything that no longer fits in the drawers. Of course, deciding which direction to take may seem complicated. Still, if we give free rein to the imagination without forgetting to consider the space available, we will certainly be able to find the built in wardrobes that are right for us, such as walk in wardrobe. You have too many clothes, dishes or books for the existing cupboards and shelves. But you don't want to part with everything. And off-the-shelf cabinets just don't fit everywhere.
On the other hand, cupboard solutions that are individually tailored to you and your room do. Nothing stands in the way of even walk-in closets in spaces that seem too small. The dream of every woman and many men: the walk-in closet. Do you also have a room that is perhaps too small for a regular cabinet? Or would you like to finally fulfill this wish you have been harboring for a long time? More space in the house and fewer things around. Is it possible? It is everyone's dream. Undoubtedly an excellent large wardrobe can be of great help to go in this direction. Choosing the right cabinet for your home can be simple if you have a clear idea. Before deciding which model to select, there are a few things to consider.
The piece of furniture needs its design to have a result worthy of the best designers and integrate perfectly with the environment without being an element out of place or bulky. In any case, the lines must be simple and essential, and if we have a long and narrow corridor in front of us, we can get help from the colors. The light colors applied to the doors will allow you to obtain a space with attention to detail, but at the same time ample. There are also no limits to the interior design of the wardrobe with drawers and pull-out rails, modern special equipment, and a full pull-out trouser rail. Bookcases can be made even more attractive with glass panes, for example. You can incorporate special facilities for multimedia and the necessary cabling. You can achieve impressive effects with permanently installed LED lamps.
Mirrored Wardrobe
Most of the time, the corridors are narrow and dark, and the idea of ​​inserting a walk in wardrobe in this house space scares us.
You don't need a magic wand to do all this; use the mirrors. Yes, because the reflective surface has the "gift" of making spaces appear more prominent. We do not have to resort to out-of-the-ordinary solutions: by simply mounting the mirrors on the doors and playing with the light tones of the structure, we will have the right touch of light and extra space that we can use as we wish.
Custom Wardrobe
If we have a tiny house, the built in wardrobes at this point become a fundamental extra element and the space-saving solution we desperately need. However, if you want to make the most of every inch at our disposal, the only alternative is to choose a  custom-made wardrobe with the structure, materials, and colors we prefer.
Walk in Wardrobe
If we have a small budget and don't want to give up the walk in wardrobe, we can bet everything on a piece of versatile furniture. And if we are DIY lovers, that's it! With some skill, we will have an impeccable result and a light but resistant walk in wardrobe. The plasterboard of a walk-in closet allows us to give free rein to our imagination and enrich it with consoles, drawers, and everything we need to store our favorite objects.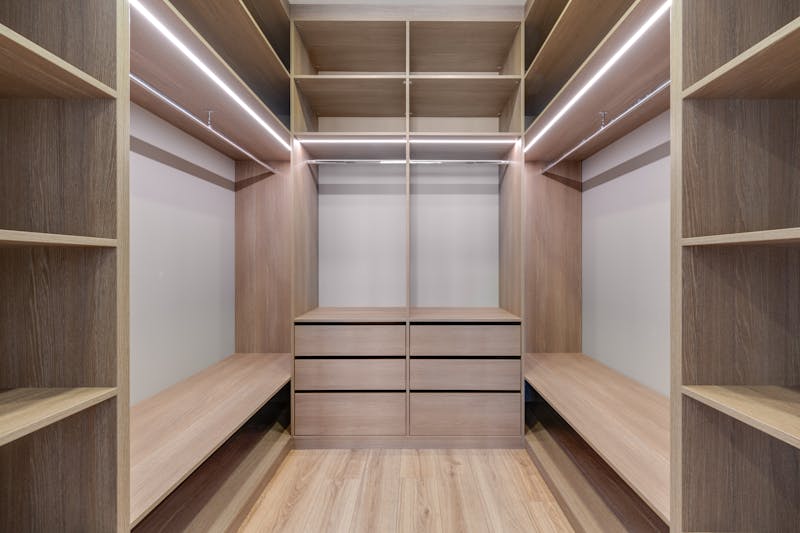 How to Customize Built in Wardrobes?
You can customize the built in wardrobes according to the space available. If you have good talent, you can create yourself, as the specialized shops offer a series of components that can be combined, mixed, and matched to suit your needs and get what you need. The most common storage systems are composed of long poles fixed to the ceiling or side walls within the space to be allocated to the cabinet. Then you can connect all the necessary accessories to choose from shelves, drawers, dividers, wall hooks, and more.
Before building built in wardrobes, it is advisable to make a design drawing to understand how much space is needed and how to divide it functionally, maximizing the horizontal and vertical widths. The storage units inserted in an area must be counted, calculating the footprint. You can also choose drawers with a glass front to see the contents immediately. Choosing the right wardrobe for your home becomes more complicated if you have thought about built in wardrobes but still don't know how to make them. And this is certainly not the first of your problems, as another priority is to find a strategy to organize your wardrobe so that it doesn't take too long to find things, especially when you are in a hurry.
A walk in wardrobe allows you to create it according to your needs and take advantage of every centimeter available, especially if you live in a small house such as a studio or two-room apartment. The cost of making a custom-made wardrobe varies depending on whether you have a craftsperson or decide to try it yourself. Your walk-in closet can therefore hide from view products and appliances that you use to clean the house and store objects that you rarely use or don't need to have at hand. Remember that your home is the place where you need to feel the most comfortable and relaxed possible. And for that, you need enough air and space.