Disclaimer:
This is a user generated content submitted by a member of the WriteUpCafe Community. The views and writings here reflect that of the author and not of WriteUpCafe. If you have any complaints regarding this post kindly
report
it to us.
The cocoa market is projected to reach USD 26.3 Billion by 2027 growing at a CAGR of 4.5% from 2022 to 2027. The chocolate market is projected to reach USD 160.9 Billion by 2027 growing at a CAGR of 4.7% from 2022 to 2027. The rising demand for cocoa in the food processing industry propels the growth of the cocoa market. The steadily growing awareness of the health benefits of cocoa is a major propellant for the growth of the market.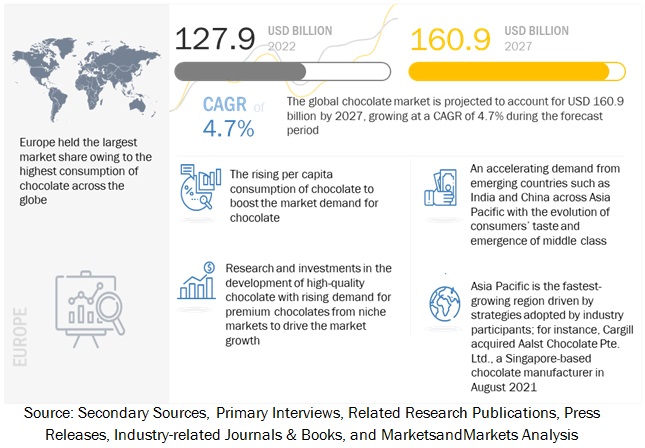 The key players in cocoa and chocolate market include Mars, Inc. (US), Mondelez International (US), Nestle S.A. (Switzerland), Meiji Holding Co. Ltd.(Japan), Ferrero International(Italy), Olam Group (Singapore), Barry Callebaut(Switzerland), Cargill Incorporated (US), Cocoa Processing Company (Ghana), Archer Daniel Midland (ADM) Company (U.S.), Chocoladefabriken Lindt Sprüngli AG (Switzerland) and Pladis Global(UK) among others.
With the growing awareness about health, an increasing number of consumers are prioritizing their health and following specific diets with specific needs. This propels the demand for dark chocolate with high cocoa and less sugar. Cocoa is the major raw material required to manufacture chocolate. The slightest turbulence in the cocoa market would lead to price fluctuations. According to the International Cocoa Organization, the world's largest supplier of cocoa is Africa, which accounts for 72% of the global production of cocoa. Ivory Coast and Ghana are the major countries producing cocoa, but these countries are also facing certain issues such as fair-trade discrepancies, environmental issues, spells of government unrest, and reducing labor force as more population is leaving farming as an occupation and opting other professions Therefore, measures such as implementation of National Cocoa Development Plan (NCDP) in the member countries of ICCO are being undertaken to improve the production of cocoa. Initiatives like these gives a promising outlook towards fulfilling the rising demand for cocoa globally. The cocoa chocolate market players are showing trends of pursuing both organic as well as inorganic strategies for their expansion, consolidation, and sustainability in the market. Developments and new product launches in chocolate and rise in the use of cocoa for cosmetics and pharmaceuticals are driving the market and is leading to an increased demand for cocoa.
Mondelez International is one of the leading providers and distributors of high-quality snacks. It provides a wide range of snacking product portfolios to its customers worldwide. The company has its presence in regions such as Asia, the Middle East, Africa, Europe, Latin America, and North America. It has operations in over 80 countries. The company's product category includes beverages, biscuits, chocolate, gum, and candy. Mondelez now owns some of the most famous chocolate and confectionery brands such as Oreo, Milka, Toblerone, TUC, and Cadbury. Other bakery brands include Barni, Club Social, Honey Maid, Enjoy Life Foods, Mikado, Newtons, Nutter Butter, Premium, and Prince.
Nestle S.A. is a leading food beverage company. The company operates in seven major segments: powdered and liquid beverages, water, milk products and ice cream, nutrition and healthcare, prepared dishes and cooking aids, confectionery, and pet care. It produces beverages, chocolates confectionery, culinary, chilled frozen food, milk-based products, ice creams, prepared dishes, and pharmaceutical products. Nestle operates globally, with a presence in Europe, the Americas, Asia, Oceania, and Africa. The company mainly operates through its subsidiaries and has 29 RD facilities worldwide.
Mars Inc. is engaged in the production and marketing of branded confectionery, snack foods, main meal foods, drinks, and pet care products. The company's major business segments include chocolate, pet care, food, Wrigley gum and confections, drinks, and symbioscience. The strategic decisions made by the company are based on five principles: quality, responsibility, mutuality, efficiency, and freedom. The company is present in more than 74 countries, including Canada, the US, Japan, India, and Russia.
What is the current size of the global Cocoa and chocolate market?
Recent Developments:
In May 2022, Blommer chocolate partnered with DouxMatok (Israel/USA), a food tech company to launch chocolate and confectionery products.
In March 2022, Hershey Company, launched a crunch cookie chocolate spread in India for the consumer's breakfast.
In March 2021, Barry Callebaut opened its third factory in India. The new chocolate factory consists of an RD lab and assembly lines capable of manufacturing various needs of customers – international food manufacturers, local confectioneries, and semi-industrial bakers and patisseries.
In March 2021, Cargill has partnered with Nestlé to extend the Nestlé Cocoa Plan (NCP) to benefit its network of cocoa farmers in Sulawesi, Indonesia. Activities include three key NCP pillars: better farming, better lives, and better cocoa.