Disclaimer:
This is a user generated content submitted by a member of the WriteUpCafe Community. The views and writings here reflect that of the author and not of WriteUpCafe. If you have any complaints regarding this post kindly
report
it to us.
Choosing the right machine can make all the difference in design, art, and craft making. Glowforge and Cricut machines are popular and well-known names in the industry that can take your designs to another level. They both are becoming household standards for DIY projects. They both are wonderful crafting machines that offer users new ways to create their favorite designs. Use these machines to etch, carve, and engrave on various materials.
Their application may be similar, but their features are different. And when it comes to choosing one over the other, the opinions differ. Some say they are both good in their field, while others claim that one is superior. This blog will review their similarities and differences to determine which machine suits you best. For this blog, we have chosen Cricut Maker and Glowforge Plus for comparison.
What is Cricut Maker?
The Cricut Maker is a smart cutting device that allows users to cut over 300 materials, including paper, vinyl, fabric, cardstock, and more. Using this device's pre-set designs, you can cut and craft any shape and size from these materials. The Cricut Maker uses a rotary blade to cut various materials; you can switch them with other blades, such as fine point blades, deep point blades, bonded fabric blades, and more. With Cricut Maker, you will get various other items to help you get started:
Rotary Blade and Drive Housing
Premium Fine-Point Blade and blade housing
Accessory adapter and pen
12×12 inches fabric grip mat
12×12 inches lightgrip mat
Welcome book
User Guide
USB data cable
Power adapter
Sample materials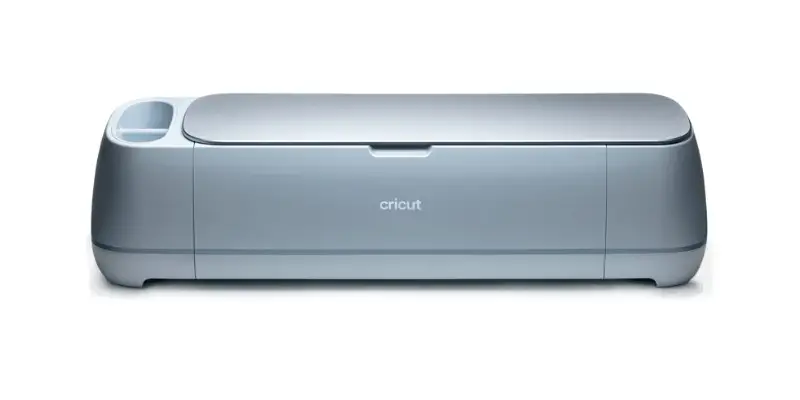 What is GlowForge Plus?
The Glowforge is a powerful Co2 laser engraver and cutter capable of can cut thicker materials, including wood, acrylic, metal, and more. Using a vector graphics program, you can use it to create 2D and intricately detailed designs. It has all the features that can help you to turn your visions into reality. In its box, you will find the following items.
Power cable
Laser head with micro camera and autofocus
Steel crumb tray
Exhaust tray
Pro Shields
Ring clamps for hose connection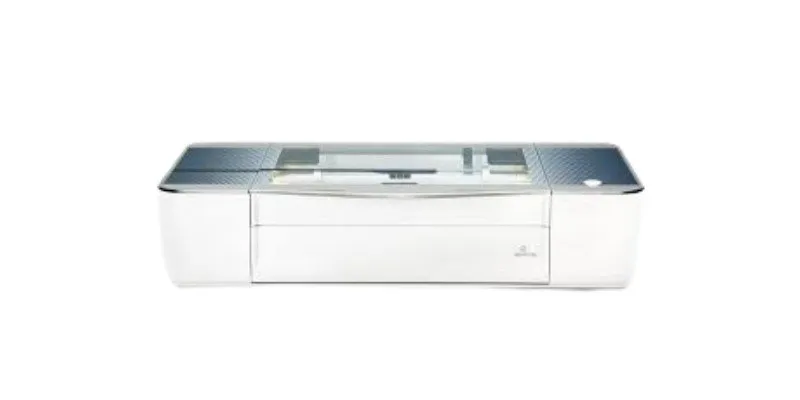 Difference Between Cricut and Glowforge
In terms of applications to many, they may appear similar. But there are some big differences between them, making it difficult to determine which is better. Each machine is better suited to different applications and people. Cricut Maker is a vinyl cutter that uses a sharp-edged tool, like a rotary blade or knife, to cut different materials like vinyl, cardstock, paper, and other soft materials.
Glowforge Laser uses a CO2 laser beam to cut and engrave various materials. A laser beam heats a specific spot and burns the material, producing a clean and precise cut. It can cut thicker materials in one or more passes. At the same time, Crut Maker with a deep cutting knife can cut up to 2.4mm thick materials. However, they do have some similarities; they both are easy to set up, safe to use, and come with really intuitive software.
Size and Portability
Cricut machines come in various sizes, but all the models are portable. You don't require much storage space; you can store it in a cupboard or take it while traveling. Other than being easily accessible, they are also aesthetically pleasing. In contrast, Glowforge models are huge and heavy. You need a large, sturdy table to place it. It resembles the shape of a large-format partner. It boasts a sleek design, but it could be more attractive.
Glowforge is one of the larger hobbyist cutting machines, but its actual working area is fairly small- 20x18x2 inches. GlowForge Pro boasts a passthrough feature that lets you cut materials of unlimited length. Although the Glowforge Plus has a wider working area, the Maker 3 is way too compact and can be used to cut very long materials. The Cricut is an obvious choice if you want something small, compact, and overwhelming. The Maker 3 is ideal for hobbyists with limited space and budget, whereas Glowforge Plus is for those looking to work with stronger materials.
Blades Vs. Lasers
As Cricut uses the blade to cut different materials, you must switch out the blade or tool for different projects such as engraving and cutting. The package may not include these tools and accessories, so you must purchase them separately. These machines can make clean cuts and create high-quality and professional-looking designs. But if you compare these devices solely based on cutting quality, a laser beam will give you better results than a blade.
Cut Precision
Both machines can cut your designs to the exact measurements with fewer deviations. With Cricut Maker, the precision quality depends on the cutting tool used for a particular operation. With Glowforge laser, the spot size of the laser beam determines the machine's precision. The blades of Cricut machines are less precise than a laser beam. Also, these blades slowly wear out over time. So in terms of precision, the Glowforge wins hands down.
Price and Additional Cost
When it comes to price, there is a big difference; the Glowforge are some of the pricier laser engravers out there, ranging from $3,995 to 6,995. Whereas Cricut Maker 3 initially cost starts from just $429. The lower price doesn't mean that the latter is not worth your menu and the former uses an expensive and powerful CO2 Laser, which increases the price. The Glowforge has a four-inch exhaust duct hose to filter odors and toxins. The replacement cost of the air filter is $1000.
FAQ
Who should go for Glowforge?
It's best for people who cut thicker materials such as wood, acrylic, etc. People with a higher budget. Professional crafters who are good with design and are familiar with various design programs. People who are serious about running a craft business and have plenty of space to store Glowforge.
Who should go for the Cricut cutting machine?
It is suitable for serious home crafters who have limited working space. People who are mostly going to work on paper and vinyl projects. People who are on a budget. Although cheaper than Glowforge, it still offers high-quality and accurate cutting. It can cut over 300 materials, and you can find 1,000 free designs in the Cricut Design Space.
In terms of Design programs which one is better?
Both machines offer different features to create your designs. Glowforge uses a web-based program that offers a range of customizable features, including editing designs and controlling the cutting speed of the engraver. In the Cricut Design Space library, you can choose any image, font, or ready-made template for your design. Both programs have their advantages.
Visit Site – cricut.com/setup
www.cricut.com/setup
Cricut setup
cricut design space setup
Source : – https://cricut-cut.com/glowforge-vs-cricut/