Disclaimer:
This is a user generated content submitted by a member of the WriteUpCafe Community. The views and writings here reflect that of the author and not of WriteUpCafe. If you have any complaints regarding this post kindly
report
it to us.
Short curly hair wigs improve the wearer's overall appearance. Depending on your tastes, you may decide whether to wear it rarely or daily. To make them last longer, you will need to take proper care of them whether you want to wear them every day or just sometimes. They will eventually begin to deteriorate and may not last as long as anticipated. If you possess curly wigs, be aware that they require different maintenance than straight wigs. BTW wigs with waves require the same extra maintenance as hair that is curly.
You won't have to toss away your curly wigs once they become tangled or frizzy if you understand how to take care of them. To guarantee that they do not occasionally become twisted, always be sure to choose high-quality products.
Have you ever had trouble keeping your deep wave wig, short curly wigs, and whatever in your hair so they would stay bouncy, curly, and fresh with that wet appearance all day without getting frizzy? Make sure to read the remainder of this blog post if that is what is bugging you.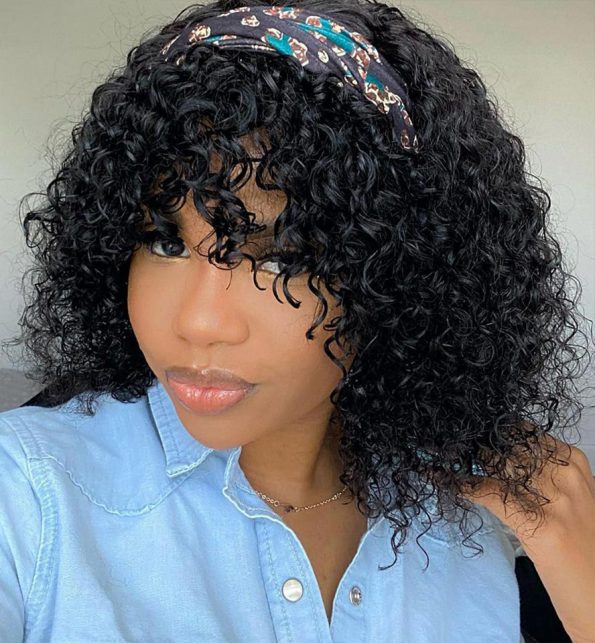 Don't wash your short curly wig excessively.
Wigs do not need to be cleaned as frequently as your own hair; but, dirt and oil can accumulate over time, causing your wig to lose its shine. Curly wigs can often become rigid and difficult to style. The general guideline for all wigs is to gently wash them in a small basin filled with warm water and wig shampoo. Swish your wig around in the water without rubbing it. Remove it and place it on towels to dry. You may pat the excess water off your wig, but don't massage it since this can cause it to lose its curls.
Gently brush.
Regularly brush your short curly wigs with a gentle comb. They may easily get dry and frizzy, and if you don't comb them for a while, you can experience hair breakage. The wig hair should be combed as gently as you can. It will guarantee that the curls on your wig stay curled.
Don't comb through the hair aggressively to remove knots, though, if it has become very knotted. This results in curl loss, hence it is not recommended to use this technique. You can choose a deep conditioning treatment in this situation, which is what we'll do next.
Use conditioner to detangle.
Since short curly wigs are essentially replicas of actual hair, they are sure to dry more quickly and require more detangling. Always use water and a hair conditioner when detangling the wig to aid in smoothing it out. Curly wigs break and lose their curls much like natural hair, and hair conditioner helps to smooth the curls and make detangling easier.
Use sufficient moisturizer.
Moisturizing is essential for both skin and hair. Use a nice and high-quality moisturizer on your short curly wig to maintain it in good shape and to help it last longer. To keep your curly wig moisturized, you can also opt to use a solution of glycerin and water.
Be cautious when you comb your wig as well. Always defrizz your wig or style it whatever you wish by using a wide-toothed comb.
Don't forget to comb your wig after conditioning it to make sure there are no tangles. Whether you wear your wig every day or not, moisturizing it should be a regular habit.
The hair will remain untangled at all times if it is moisturized and regularly combed. If you don't complete this step frequently, your wig can end up becoming quite knotted.
Have a deep conditioning.
Consider getting a deep conditioning treatment if the strands are really tangled. All you have to do is completely wet the strands with a detangling conditioner to achieve this. Then, heat it for 48 seconds in the microwave.
Do not microwave it for longer than 48 seconds. Even though the hair does not feel warm to the touch, avoid heating it for any longer than is necessary since doing so might cause the gel within to melt. Your curly wig's hair will become wavy quickly with this technique.
Make use of wig care products.
You should be aware that frizziness and dryness are essentially the same thing, and that your hair will seem frizzy when it is dry. Sometimes using the incorrect shampoo causes your wig to get dry. Therefore, we advise that you always ask the store where you purchase your wig what shampoo you should use. They could advise choosing shampoos without specific components.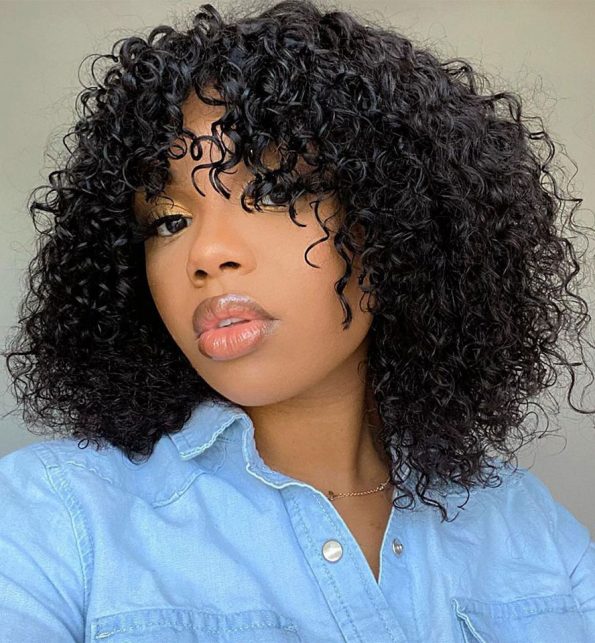 Reduce your reliance on styling products.
You shouldn't use excessive amounts of styling products on it, even if it's a wig. They harm your natural hair, which may also harm your wigs. Consequently, if you want the style treatments you use on this hair to last, be careful not to overdo it.
To reiterate, curly are a pattern, not your hair's substance. The texture will change as a result of styling products, which will also mess with the pattern.
Conclusion.
So, the aforementioned is my direction and recommendations for maintaining a short curly hair wig right now. You should quite aware of how to properly maintain and wash a short curly wig right now.
For wigs to seem healthier, we need take great care of curly hair because it is a permanent hairdo.
0