Disclaimer:
This is a user generated content submitted by a member of the WriteUpCafe Community. The views and writings here reflect that of the author and not of WriteUpCafe. If you have any complaints regarding this post kindly
report
it to us.
Lucrative opportunities arise in the fragmented industrial robotics market, driven by Industry 4.0 and digitalization. Transparency is fostered through trade exhibits, while fierce competition fuels acquisitions and collaborations for innovation. Key players like ABB and Yaskawa dominate the market.
                                                                       Storyline
Industrial robotics market: Technological integration drives expansion.
Robotics revolution: Industry 4.0 fuels innovation and investment.
Regional growth: North America sees surge in robot orders.
E-bike market: Growing demand for eco-friendly transportation.
 The Overview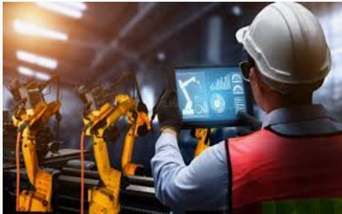 The global industrial robotics market was valued at USD 26.52 billion in 2022. The surge in technological integration is propelling the use of robotics and smart manufacturing in the industrial sector. Manufacturers are expanding their facilities to meet the rising demand, as demonstrated by ABB Ltd.'s recent investment of USD 150 million in a state-of-the-art robotics factory in Shanghai, China.
1. What's up with the current trends?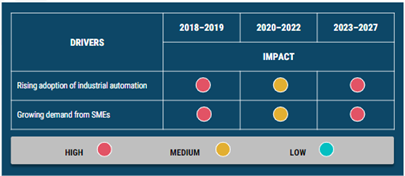 For more information, request a free sample Report
The advent of Industry 4.0, the latest industrial revolution, has ignited a wave of technological advancements in robotics. Collaborative robots, AI-enabled systems, and other innovative technologies have revolutionized industries, enabling streamlined processes, heightened efficiency, and error elimination. Moreover, the integration of robotics has significantly enhanced workplace safety and bolstered production capabilities, prompting industries to heavily invest in these cutting-edge systems.
The latest data from the National Bureau of Statistics reveals a remarkable surge in production volume, with a growth rate surpassing 50% in 2021. The figures soared from approximately 237,000 units to a staggering 363,000 units, showcasing a significant upswing compared to the previous year. Other factors such as, AI, machine learning, and 5G are transforming manufacturing robotics. With real-time connectivity and improved coordination, these technologies enhance efficiency and productivity in the industry.
2. North America seems to be taking the lead.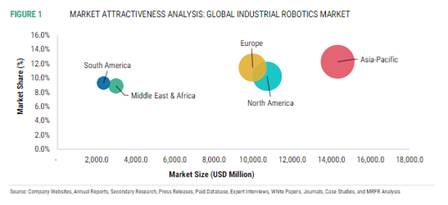 Visit A link Request for Custom Report
North American companies witnessed a substantial surge in robot orders, reaching 9,853 units in Q2 2021 compared to 5,196 in 2020, as reported by the Association for Advancing Automation (A3). This growth in sales points towards new job opportunities and highlights the automotive OEMs' contribution with an 83% increase in industrial robot purchases for process automation, according to the Robotic Industries Association (RIA).
3. Future Scenario: The way ahead is bright but a vision is required.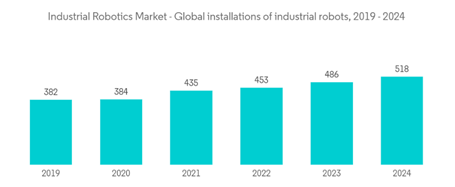 Rapidly growing and competitive, the global e-bike market benefits from the increasing consumer preference for eco-friendly transportation. Manufacturers view e-bikes as a cost-effective alternative to electric vehicles, while government support and e-bike sharing services further propel market expansion.
For more insights on market intelligence, refer to the link below: –