Disclaimer:
This is a user generated content submitted by a member of the WriteUpCafe Community. The views and writings here reflect that of the author and not of WriteUpCafe. If you have any complaints regarding this post kindly
report
it to us.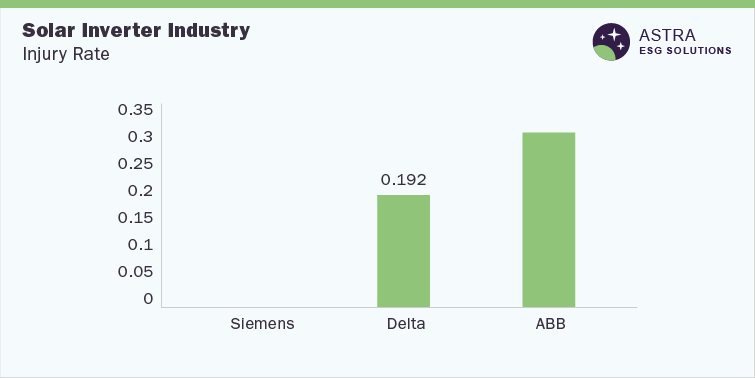 The average ESG disclosure score for the solar inverter industry is between 60% and 70%. Our proprietary ESG scoring framework analyzed 65 parameters across the environment, social, and corporate governance, as represented in the methodology section of this document.
Siemens AG, Eaton Corporation, Delta Electronics, and three more market leaders were part of our research. Only half of the six companies we researched scored above the average industry score. However, the bottom-ranked among market leaders need to focus more on ESG reporting and transparency, as they scored very poorly on multiple aspects.
For more details: https://astra.grandviewresearch.com/solar-inverter-industry-esg-outlook
Environmental insights
The majority of the energy market is still held by conventional sources like natural gas, oil, coal, or nuclear. However, with growing energy demand, the world is increasingly adopting renewable energy sources that are sustainable. PV inverter plays the crucial role of inverting the current collected by the solar panels (Direct Current [DC]) to the energy that can be used inside our homes (AC). Hence, it is an inevitable part of the solar power generation system. Although pollution during the operational lifecycle of a photovoltaic system is minimal, the environmental impacts during manufacturing and disposal cannot be ignored.
The major players in the photovoltaic inverter industry have revised their environmental commitments and improved transparency. This is evident from their efforts to reduce carbon emissions, promoting ISO 14001 certifications and TCFD mechanisms. There are new programs being implemented by these companies to achieve their emissions targets, increase water efficiency, and reduce waste. Some of these companies have committees exclusively to monitor how the company is performing on the sustainability front. In Delta Electronics Inc, the ESG committee is chaired by Chief Sustainability Officer. In OMRON Corporation, the sustainability committee is overseen by the Board of Directors. At Eaton Corporation Plc, the sustainability executive council comprises Chairman and Chief Operating Officer. Among companies within the sector, Delta, OMRON, and Eaton rank highest on environmental parameters with a score above 80%.
Social insights
Social metrics assess risks that a firm may face from both human capital and the community. The parameters used for assessment include, but are not limited to, turnover rate, injury rate, employee engagement programs, training & development, health & safety certifications, and community development. On the basis of the above parameters, companies have been ranked, and Delta Electronics secured the top rank in overall social performance with a score of little less than 80%, followed by Siemens AG and ABB.
Governance insights
One of the most significant foundation stones of a firm is its governance, which encompasses a variety of criteria such as corporate ethics, board structure, financial transparency, and anti-corruption, among others. After the assessment of governance among major companies in the solar inverter industry, Siemens fetched the top rank with an above 90% score. Other top performers were Eaton Corporation and Emerson Electric. The Siemens Integrity Initiative, which combats corruption and fraud via collective action, education, & training, adheres to the highest compliance and anti-corruption standards as well as promotes integrity. Siemen's executive pay includes performance criteria related to sustainability metrics.
Country-level insights
The demand for energy is increasing every year, which is driving the need for various renewables, such as solar energy. The increasing need for a steady power supply in harsh climatic conditions or remote locations has led to the enhanced deployment of off-grid solar PV systems, thereby propelling the PV inverter product demand. In addition, favorable government policies and initiatives regarding clean fuel usage are expected to further amplify PV Inverter industry growth. The following section looks into various initiatives around the globe with regard to promoting the solar PV market.
Request for Free Demo: https://astra.grandviewresearch.com/solar-inverter-industry-esg-outlook/request/rs1
0