Disclaimer:
This is a user generated content submitted by a member of the WriteUpCafe Community. The views and writings here reflect that of the author and not of WriteUpCafe. If you have any complaints regarding this post kindly
report
it to us.
This is one of the more fascinating infographics included in Josh Bersin's 2023 predictions report (link in comments below).
Why am I talking about talent acquisition when the economies in Australia and the US (the two countries I work the most in) are slowing?
Because we still and will continue to have a very severe skills shortage, caused by the aging workforce and the disparity of skills available and skills needed due to changing market conditions and, especially, the rapid acceleration of technology implementation (ChatGPT anyone?)
This shows the maturity levels of organizations with regards to their talent acquisition processes and the percentage of companies surveyed at each level.
Unfortunately, I still see far too many organizations at Levels 1 and 2.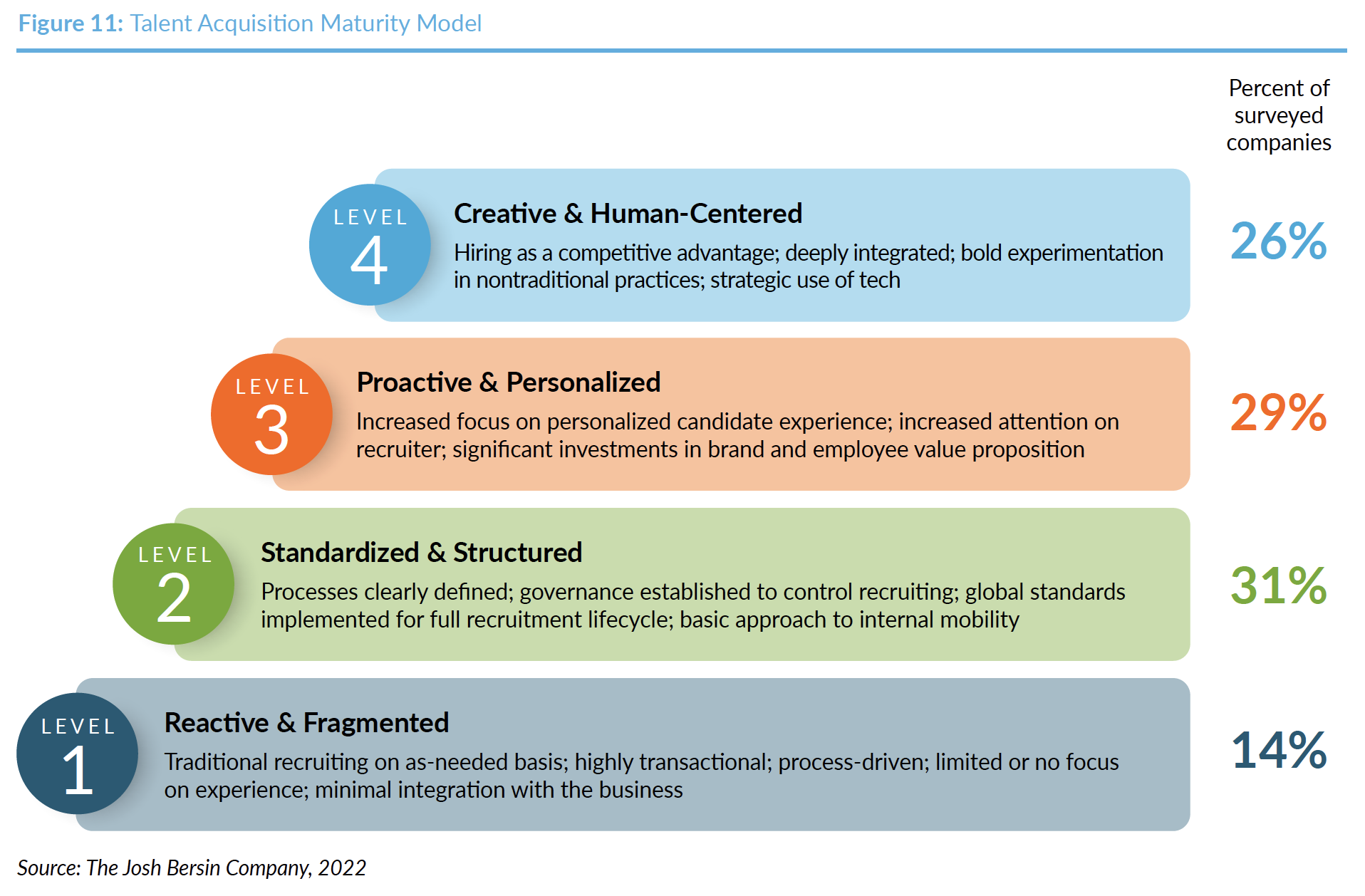 Level 3 is incredibly important, especially in light of LinkedIn's research that said that 65% of candidates who withdrew from the hiring process did so because of bad candidate experience and Sapia.ai's research which showed that only 25% of candidates surveyed reported having had good candidate experience while looking for a new role.
Level 4, though…this is where the magic happens. Bersin's report makes a compelling case (which I have seen and experienced directly) that organizations with great internal recruiters are amongst those that are most successful.
This makes sense to me. A great TA team can partner with their hiring managers and act as talent advisors.
They can also work well with candidates to provide a great candidate experience.
Where are you in this maturity model?
If you need help reaching level 4 let me know. I've been helping organizations with their recruiting strategies since 1994. Yes…I started when I was 12!