Disclaimer:
This is a user generated content submitted by a member of the WriteUpCafe Community. The views and writings here reflect that of the author and not of WriteUpCafe. If you have any complaints regarding this post kindly
report
it to us.
It's almost that time—you're about to start packing up your home so you can move somewhere else. But where to begin? Many people experience anxiety about moving, largely because the process often feels like a big job with no clear steps to follow. This can lead to hasty packing at the last minute, which may lead to certain items being lost or damaged in the move.
Of course, there's no reason your upcoming move needs to be anywhere near as chaotic—whether you're moving locally or long distance! And if you pack properly, it won't be. That's why we've put together a complete guide to packing your home for a move. Read on, and discover how to make moving a breeze.
Where to Start the Packing Process
One of the questions we get most often at M&M Movers is about what items should be boxed up first. But in fact, what you pack first isn't as important as where you start your packing—down to the specific room.
Step 1: Pack Items You've Already Stored
When: about 3 weeks out from moving day.
Chances are, you've got a few items in your home that are already in storage—things you never unpacked from the last move, or things that you'll only use intermittently throughout the year.
Since these items are already packed, they'll be the easiest to get ready for your upcoming move. Just make sure you still actually want them! In fact, we recommend doing a thorough sweep of the whole house before you start packing, so you can get rid of any items you don't want coming with you to the new place and save yourself the trouble of trying to find room for them.
Step 2: Pack the Rooms You Use Least Often
When: 2 weeks or so away from moving day.
Once you've readied your already-packed items, the best room to start packing in is the one you use least. The attic, basement, garage, or shed are all promising candidates.
Why, you might ask? Simple: The things you pack away first will be the ones that stay in boxes longest; the ones you won't be able to access while everything else is being stored. If they're the first boxes into the truck, they'll also be the ones that come out last—so these should be the items you can go without for a while.
Step 3: Tackle the Toughest Rooms in the House
When: at least 1 week before moving.
Okay, the items you can do without for a while are all packed up. Now what?
This is the perfect time in your packing process to take on the tough rooms: often the bedrooms or living room. Here's why: these places tend to be larger spaces with lots of furniture and knick-knacks. They're often cluttered before a move, so chances are good that they'll be full of items that need your attention.
Packing these rooms early on in your move means you'll have enough energy to focus on what's going where—reducing the likelihood of losing things. Plus, getting these spaces out of the way early will make the rest of your move feel easy by comparison.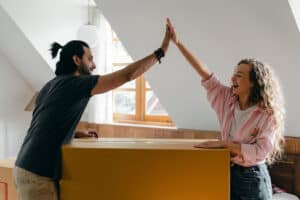 Packing Specific Items
Step 4: Pack Your Decor & Books
When: the weekend before the move.
Now that you've organised the biggest and scariest (from a moving perspective, anyway) zones of your home, you can shift your focus to packing specific items. Now is when we recommend boxing up curtains, rugs, wall hangings, and other items in your home that mainly serve an aesthetic purpose.
This is also when you should pack up your books, if you didn't do that already during the bedroom/living room step. Since you likely won't be reading every book in your home from now until the move, keeping them out takes up space and serves no useful purpose.
Step 5: Pack Clothes, Shoes, & Accessories
When: at least 4 or 5 days before moving.
Your outfits are different from your book collection, in that you probably don't wear the same outfit for weeks or months at a time before switching to the next one you own. As such, you can't just put every outfit but the one you're wearing in storage.
Fortunately, at this point, there are only a few days until your move. It's perfectly acceptable to keep two or three outfits and some essentials in a weekender, and rotate through them in the days leading up to your move. Everything else should be cleaned, folded, and boxed or bagged up.
The Final Stages of Packing Your Home
Step 6: Kitchen & Bathroom Areas
When: 1 to 2 days before moving.
Your kitchen and bathroom are areas you use on a daily basis, so you don't want to empty them with weeks to go until you move. In fact, you'll probably want to make sure your bathroom doesn't get packed up until the day before you move (so that you still have everything you need to maintain your hygiene beforehand).
Kitchens are a little trickier, because they often contain a lot of items and can be frustrating to pack up at the last minute. Cookware and glasses can also be delicate, so you can't just throw them in a box at the very end of the moving process. Here's what we recommend:
Pack up appliances you don't use regularly during Step 2, so that they're put with the other things you can go without for a while.
Pack up all but the essential utensils, plates, pots and pans during Step 5, so that you'll have them until you go Spartan for a few days and start living out of your weekender bag.
Pack up the remaining kitchen items 1 or 2 days before you move, and treat yourself to a couple of takeout meals. This will give you a reward for packing up everything in time, and you won't spend the last few hours in your old home washing dishes.
Step 7: The Final Sweep
This last one's pretty self-explanatory. Go through your home looking for any items that may have eluded you during your packing and put them in a box or two for "miscellaneous" things. That's it—congratulations! You've successfully packed your home for a move.
Remember, packing shouldn't cause panic. The rule of thumb to follow here is, start with the items you'll need least before the move and the largest, most cluttered spaces. Then work your way down to the small things and rooms you use almost every day, setting aside a few essentials so that you have what you'll need to live comfortably (albeit simply) in the days immediately prior to moving.
Want more moving tips? Contact us to have questions about your upcoming move answered by professionals who have seen it all and know how to make the process easy.
0