Disclaimer:
This is a user generated content submitted by a member of the WriteUpCafe Community. The views and writings here reflect that of the author and not of WriteUpCafe. If you have any complaints regarding this post kindly
report
it to us.
High-quality custom stickers are the most versatile and cost-effective ways to get your message to the world, as you have seen them everywhere in ads, public places, or mobile vehicles. Customized stickers attract eyeballs from a distance and have a more extended shelf at low prices.
When you affix attractive bumper stickers or labels on the back of the car, it won't incur a monthly fee, but it will send the word to the public until you peel it off. High-quality sticker printing services help the brand add various colors, unique designs, and personalities to different surfaces for laptops, storefronts, car bumpers, and more.
Partner with a custom sticker printing company like Implant media which produces unique stickers at low costs and helps to jumpstart your business with customized stickers and labels. With sticker printing services, you can try new designs and save money because they can handle production seamlessly.
Unlike regular custom sticker printing jobs producing decals, labels, and stickers requires a more technological approach to print on various stocks, which has advantages. It would be best to consider various factors like the purpose, best material, color, design, adhesive type, and more.
Best tips for high-quality sticker printing for your business
Use CMYK color process
When you choose high-quality sticker printing, you need to understand the color process of combining primary colors Cyan, Magenta, Yellow, and Black (CMYK), which can create more than a thousand combinations of colors.
If you need to create a shade of orange, for instance, a custom sticker printing company first prints small dots of magenta, and once the sticker sheets are dry, they will print in yellow ink, which gives a shade of orange.
Print in high resolution
Always ask the printer to print the stickers at 1440 dpi. So they can mix and match every color and print the most complex designs per requirements. Create your designs in a high resolution before you make custom stickers online so that any print format will look fantastic.
There are various printing options, such as standard digital, flexographic, large format, and hot-stamped sticker printing. If you have existing artwork, you can send it to your printing company to redraw it from scratch and convert your low-resolution artwork to highly detailed images, which always come out excellent with optimal quality.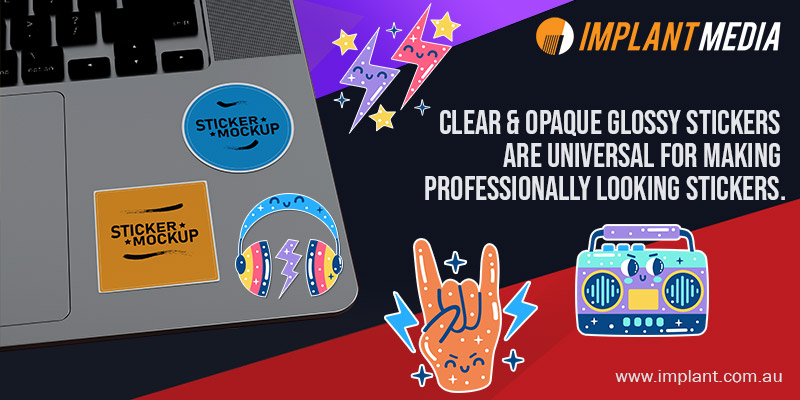 Use extra thick vinyl
As popular research shows, all the material vendors, including some large companies, were asked what the best quality vinyl material suits for printing custom stickers? The answer is to use the extra thick vinyl for a great look and feel.
If you have the chance, ask for samplings of precisely the type of printing you're going to order. Test the vinyl sticker on a tear and wear it to ensure it will endure. Implant produces top-notch customized stickers in Australia with a sturdy paper backing and protective laminate that attract eyeballs.
Use robust paper backing
Sturdy paper backing boosts the overall strength of your personalized stickers without losing the quality when stored in your pocket or backpack. Whether your sticker is kiss cut, die-cut, or any other style, sturdy paper backing helps easier peeling.
Clear vinyl stickers are ideal for printing transparent stickers and look great on product labels, store windows, transparent bottles, and many more. You can also choose a matte finish that gives your custom stickers a premium look and feel.
Use strong adhesive type
Everyone knows stickers are only good if they have a strong adhesive to stick for a long time. There are various adhesive options available for stickers. Some are high tack, static cling, removable, rough surface, and permanent, which keeps the sticker as long as possible.
Various sticker printing services have different adhesive options. Choose the best adhesive type for your high-quality custom stickers that suits your purpose. The implant has the best adhesive options available for your custom sticker printing.
Ensure your stickers are weatherproof
Create high-quality custom stickers to resist rain, sunlight, and wind exposure. If your stickers need to be weatherproof, they apply the coating with a top-notch protective UV laminate that makes your sticker durable and resistant to tear, fade, scratch, and water-resistant.
Implant, a customized stickers printing company in Australia, provides sticker printing services for all types of stickers with shapes, designs, stock, adhesive types, and fade resistant up to 3-5 years, suitable for Australian conditions.
Implant is a customized stickers printing company in Australia that has helped various business sectors with logo design, sticker design, graphic design, banner designs, and much more. Get high-quality stickers for your business or personal use with a high-quality sticker printing service with fast turnaround, and we deliver all around Australia.