Disclaimer:
This is a user generated content submitted by a member of the WriteUpCafe Community. The views and writings here reflect that of the author and not of WriteUpCafe. If you have any complaints regarding this post kindly
report
it to us.
In an age where consumers have numerous options to choose from, businesses must work hard to capture and retain attention. Building brand awareness, which is a sign of customer loyalty, trust and advocacy, is vital in today's marketplace, and investing in customer engagement is one of the most effective ways to achieve this. By creating positive experiences, companies can build brand loyalty, increase client retention and drive revenue growth. 
For companies, gaining an in-depth understanding of their end-users is crucial, and simply interacting with them through surveys, website feedback forms and social media is not enough. It is essential to adopt a comprehensive approach to the customer engagement process, considering all the necessary factors involved.
In short, client engagement is crucial for organizations looking to remain competitive and grow in today's market. It's not just about attracting new clients but retaining existing ones by providing excellent client service and creating a positive brand experience. With the right strategies in place, companies can reap the benefits of client engagement, including increased revenue, greater customer loyalty, improved client satisfaction and a stronger brand reputation.
In this article, we will explore the concept of customer engagement and its importance, as well as the benefits of using a customer engagement portal. We will also provide practical tips for effective engagement of customers, including 10 strategies that can help an organization build stronger relationships with its clientele. By implementing these strategies, companies can foster greater client satisfaction and loyalty, leading to a boost in sales and sustainable growth over time.
Why Сustomer Engagement Matters
Customer engagement is a critical factor that contributes significantly to the growth and performance of a business. Engaging with end-users creates a positive and interactive experience, which can result in increased client loyalty, brand awareness and consumer experience, as well as drive sales. 
Studies show that engaged customers are more likely to make repeat purchases, spend more money and refer others to the business. They are also more forgiving of mistakes and more likely to give positive reviews, which can help build a strong reputation for the company. 
For example, a study by Gallup found that clients who are fully engaged with a company are 23% more likely to spend more money with that company than the average individual. Engaged customers are also 87% more likely to remain loyal to a company, making them an essential target for an organization looking to increase client retention. Another study by Forrester found that engaged customers are more likely to make repeat purchases and less likely to switch to a competitor. In fact, they found that those who had a positive experience with a company were 5 times more likely to repurchase, 4 times more likely to refer friends and family and 7 times more likely to forget a mistake.
In addition, investment in customer engagement can help companies stay competitive by providing valuable insights into client needs and preferences. By understanding its clientele better, a company can create products and services that meet those needs, resulting in higher client satisfaction and loyalty. 
Overall, engagement of customers is essential for organizations striving to build a strong and sustainable client base. By creating positive experiences and interacting with customers on an ongoing basis, companies can foster fidelity, increase revenue and build a strong reputation in the marketplace.
Improve Сustomer Engagement: Top 10 Strategies for Success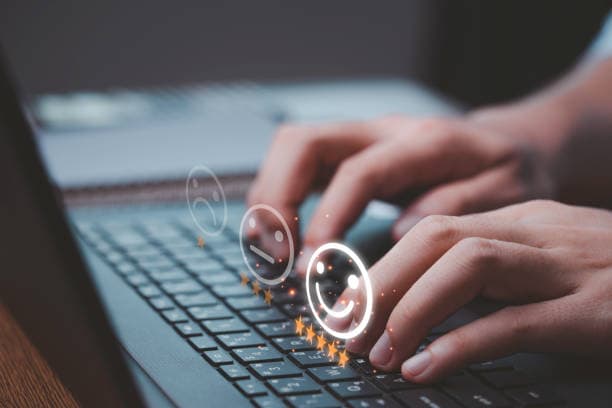 Client engagement is critical for a business trying to build brand awareness, retain customers and drive sales growth. Here are ten strategies to accomplish this: 
Personalize your communication: Use customer data to create personalized messages, including e-mails, in-app notifications and more that resonate with your audience. 
Offer self-service options: Provide users with the capability to access up-to-date information and support 24/7 through a customer engagement portal or chatbot. 
Deliver value: Offer discounts, promotions and relevant content that provides value to your users. 
Encourage feedback: Ask for feedback and proactively address common problems to show your target audience that their opinions matter. Make sure you are asking the right questions that will help you understand your customers' pain points.
Be active on social media and websites: It's essential to actively engage customers on social media platforms to build relationships and increase brand awareness. 
Offer excellent customer service: Investing in training your support team can result in providing excellent service, and empower them to resolve customers' issues quickly and efficiently.
Create a loyalty program: Reward customers for their loyalty with exclusive discounts, promotions and perks. 
Maximize the usage of email marketing: Harness the power of email marketing to communicate with your consumers regularly and provide them with relevant information. 
Monitor customer engagement: Use analytics tools to monitor and control the client engagement process and identify trends in client behavior, allowing you to make data-driven decisions. 
Leverage the right software tools: By using feature-rich software tools like customer engagement portals or client portals, organizations can successfully implement all of the aforementioned tips and achieve a personalized and seamless experience for their target audience.
Let's delve deeper into what a customer engagement portal is, examine its features and functionality, and provide insights on how to use one effectively. Additionally, we will take a closer look at one of the most widely used client engagement software available on the market today.
Customer Engagement Portals: Benefits & Functionality
A customer engagement portal or a customer portal is a secure centralized platform that allows customers to obtain information, services and support from a business in a centralized location. These portals are designed to provide a seamless and interactive experience for customers, making it easier for them to engage with the company and quickly get the information they need. This kind of software solution typically offers features such as personalized communication, data analytics, customer support tools, feedback management, text messaging, etc.
One of the key benefits of a customer engagement portal is the ability to provide users with self-service options. By giving users access to any educational material and support 24/7, organizations can improve their customers' experience while reducing the workload on support teams. This can lead to faster response times, improved customer satisfaction and reduced operational costs. 
Another benefit of client engagement platforms is their power to personalize the customer experience. By collecting information on customer needs and preferences, organizations can interact with their target audience by providing tailored recommendations and support, for example through personalized messages sent in-app or via email. 
A customer engagement portal can also help organizations manage relationships with their customers more effectively. By providing a centralized hub for client interactions, businesses can identify trends in customer behavior. This can help companies define areas for improvement, make informed business decisions, and stay ahead of the competition. 
In summary, a customer engagement portal or just a customer portal offers a range of benefits to its users, including better customer experience, increased client loyalty and reduced operational costs. By leveraging and customizing the functionality of a customer engagement platform, organizations can build a stronger bond with their customers, generate more sales and achieve long-term success.
Nimbus Platform: an Example of a Powerful Customer Portal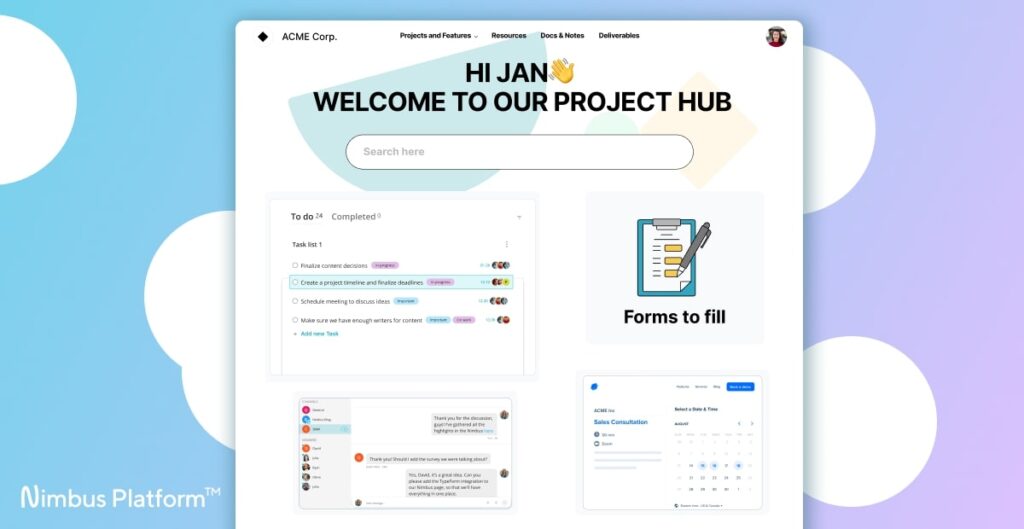 Nimbus is a secure customer engagement portal software solution that allows a company to deliver a personalized and smooth customer experience. It seamlessly integrates into any workflow and offers a range of features and functionalities that can help businesses build stronger connections with their target audience. 
One of the key features of the Nimbus customer portal is its capability to provide users with self-service options. With the ability to get important information quickly, including documentation and video tutorials as well as with 24/7 support through the portal, users can resolve issues quickly and efficiently, which can lead to higher levels of satisfaction and loyalty. Additionally, the Nimbus portal allows organizations to deliver relevant and timely messages to customers, for example via push notifications.
The Nimbus customer engagement portal solution also boasts tools for managing client interactions and feedback, allowing businesses to respond to client inquiries and complaints promptly. By providing excellent service to their customers, firms can create a positive impression and build trust with their target audience. With Nimbus platform, organizations can introduce purchase incentives and other rewards, such as exclusive discounts, loyalty points and personalized offers to drive engagement and build stronger rapport with clientele.
Nimbus customer engagement portal has the potential to add value by collecting and analyzing data on consumer behavior and preferences. This data can be used to customize recommendations and offers, creating a more relevant and engaging customer experience. One more thing to mention – the Nimbus portal enables its users to create and deliver more visually appealing and digestible marketing content, including high-quality video tutorials and animated videos, which can help brands effectively communicate their message and increase customer engagement.
Overall, Nimbus comprises a powerful customer engagement portal software that can help organizations increase engagement of customers, improve consumer satisfaction, and drive revenue growth. With its user-friendly interface and robust set of features, Nimbus is an excellent choice for a company looking to provide its target audience with a seamless and personalized experience.
Conclusion
A customer engagement portal offers businesses an opportunity to ensure a customized and cohesive experience for their end-users, resulting in strengthened relationships and increased loyalty. By leveraging the power of technology, organizations can increase customer engagement, improve satisfaction and drive revenue growth in today's highly competitive marketplace.
If you're interested in trying out the Nimbus Platform customer engagement portal for yourself, you can download it for a free trial on the Nimbus website. By experiencing its benefits firsthand, you can see how it can help your business boost client participation and drive growth. So why wait? Start your free trial today!
Visit the Nimbus Twitter page for the latest news and updates!
Originally it was posted here: Nimbus Blog