Disclaimer:
This is a user generated content submitted by a member of the WriteUpCafe Community. The views and writings here reflect that of the author and not of WriteUpCafe. If you have any complaints regarding this post kindly
report
it to us.
The global
biofertilizers market
size is estimated to be valued at USD 2.6 billion in 2021 and is expected to reach a value of USD 4.5 billion by 2026, growing at a CAGR of 11.9% in terms of value during the forecast period. Factors such as growth in the organic food industry, increasing usage of biofertilizers in ranch and private firms, are some of the factors driving the growth of biofertilizers.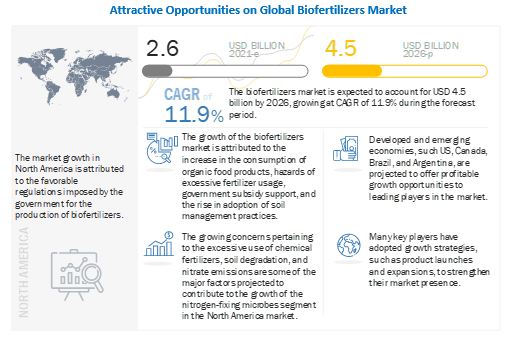 Key players in this market include Novozymes A/S (Denmark), Vegalab SA (Switzerland), UPL Limited (India), Chr. Hansen Holding A/S (Denmark), Kiwa Bio-Tech (China), Lallemand Inc. (US), Rizobacter Argentina S.A. (Argentina), T. Stanes & Company Limited (India), IPL Biologicals Limited (India), Nutramax Laboratories Inc. (US), Symborg (Spain), Kan Biosys (India), Mapleton Agri Biotech Pty Ltd (Australia), Seipasa (Spain), AgriLife (India), Manidharma Biotech Pvt Ltd (India), Biomax Naturals (India), Jaipur Bio Fertilizers (India), Valent BioSciences (US), Aumgene Biosciences (India), Agrinos (US), Criyagen (India), LKB BioFertilizer (Malaysia), Varsha Bioscience and Technology India Pvt Ltd. (India), and Valagro (Italy).
New product launches, expansions, investments, acquisitions, and collaborations were the key strategies adopted by the leading players in the biofertilizers with a view to improve their product line and presence in the market.
Novozymes A/S (Denmark) is a global biotechnology company that is primarily engaged in the production and marketing of enzymes, microorganisms, and biopharmaceutical ingredients. The company manages its business through two major segments: enzymes and bio-business. The company has over 700 products which are used in 130 countries.
Novozymes operates globally through its subsidiaries and partnerships with other companies. It carries out its operations in a number of countries around the world, including China, India, Brazil, Argentina, the UK, the United States, and Canada. The company sells biofertilizers products through its subsidiary, Monsanto BioAg (US). The major subsidiaries of the company are Novozymes Japan Ltd (Japan), Novozymes Biologicals Inc. (US), Novozymes Biologicals Limited (Canada), Novozymes Australia Pty Ltd (Australia), Novozymes South Asia Pvt. Ltd India), and Novozymes Spain S.A. (Spain).
Lallemand, Inc. (US), is a privately held company that focuses on the development, production, and marketing of yeasts and bacteria. Its chief business groups are animal nutrition, banking, bio-ingredients, biofuels & distilled spirits, oenology, plant care, brewing, health solutions, manufacturing services, and pharma. Lallemand Plant Care, a part of the company, is committed to producing and supplying fungal, bacterial, and yeast biocontrol products, biofertilizers and biostimulants for application in forestry, agriculture, horticulture, turf management and consumer gardening.
The company conducts its plant care business through its VerderaQy (Finland) and ITHEC (France) subsidiaries. It has strong research facilities and analysis services, including a wide range of analysis and diagnosis of plant pathogens and other pests to develop new biocontrol products. Lallemand has its geographical presence in South America, North America, Europe, southern Africa, and the Asia Pacific region. Lallemand Animal Nutrition (UK) and Lallemand Plant Care (Canada) are its few subsidiaries.
The imposition of bans on the usage of harmful chemicals and fertilizers in the agricultural industry by governments in North American countries has created a high growth potential for biofertilizers. In addition, the increase in acceptance of organic foods among consumers is projected to widen the scope of growth for leading players. With the increase in inclination toward organic cultivation in the region, the growth of the biofertilizers market is projected to remain high. As per the USDA and Department of Energy (DOE), the increase in the availability of biomass feedstock is also one of the key factors driving the market growth.