Disclaimer:
This is a user generated content submitted by a member of the WriteUpCafe Community. The views and writings here reflect that of the author and not of WriteUpCafe. If you have any complaints regarding this post kindly
report
it to us.
The global
dairy testing market
is projected to record a CAGR of 8.2% during the forecast period (2021 to 2026) to reach USD 8.1 billion by 2026, driven by the globalization of dairy trade, and stringent food safety and quality regulations.
The key players in this market include SGS SA (Switzerland), Eurofins Scientific (Luxembourg), Intertek Group plc (UK), Bureau Veritas (France), ALS Limited (Australia), and TÜV SÜD (Germany).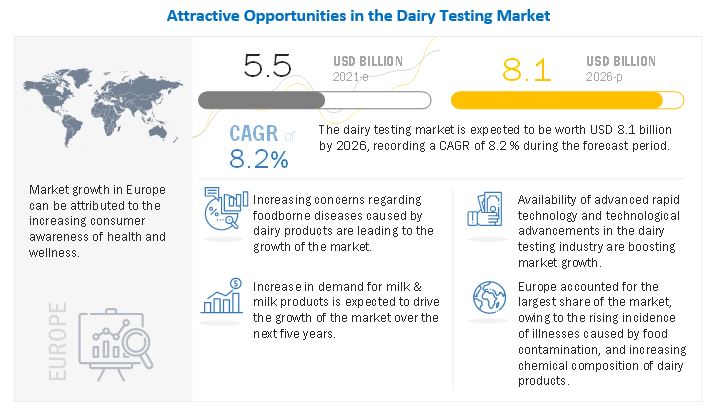 New product launches, expansions & investments, joint ventures, agreements, and partnerships were some of the core strengths of the leading players in the dairy testing market. These strategies were adopted by the key players to increase their market presence. It also helped them diversify their businesses geographically, strengthen their distribution networks, and enhance their product portfolios. Some of the other players in the dairy testing market are Mérieux NutriSciences (US), ), AsureQuality (New Zealand), Romer Labs (Austria) and R J Hill Laboratories Limited (New Zealand).
SGS SA (Switzerland) is a Swiss multinational company which primarily deals with inspection, testing and certification. The company offers services such as Quality Inspection, Quality Testing and Certification, Product Conformity Assessment, Facility Audit and Certification through its ISO/IEC 17025 accredited laboratories. It also provides additional services like training and consulting. SGS provides services across various domains like agriculture & food, life sciences, oil & gas, energy, environmental, and health & safety. In December 2020, SGS SA partnered with RLP with the aim to expand its service portfolio in the area of good laboratory practices. In return, RLP is able to extend its service portfolio and expand its customer base by including services like chemicals, biocides, veterinary drugs and pharmaceuticals testing in the area of food, agriculture and pharma.
Eurofins Scientific (Luxembourg) provides testing services in genomics, discovery pharmacology, forensics, and advanced material sciences, and supports clinical studies. The company operates more than 900 laboratories and offers a vast portfolio of around 200,000 analytical methods for evaluating the safety, composition, origin, authenticity, and purity of the sample. In June 2021, Eurofins Clinical Testing US Holding, Inc, a subsidiary of Eurofins Scientific, acquired DNA Diagnostic Center, a genetic testing laboratory that caters to the fertility, lifestyle, veterinary, and forensic areas. The acquisition will help Eurofins to enter the DNA testing market.
Bureau Veritas (France) is one of the global leaders in providing testing, inspection, and certification services to meet the growing challenges of quality, safety, environmental protection, and social responsibility. The company offers innovative digital solutions to reduce risks, improve performance, and promote sustainable development. Bureau Veritas operates globally across numerous industries including marine and offshore, oil & gas, food, and power & utilities. It was privately owned till 2007. In April 2019, BV acquired Shenzhen Total-Test Technology Co., Ltd., a Chinese food testing company, founded in 2008, which it provides testing for over 30 categories including agricultural products, baby foods, processed food products and animal feed. The new laboratory will act as BV's food testing hub in South China.
Intertek Group plc (UK) is a leading Total Quality Assurance provider to industries worldwide. It offers assurance, testing, inspection, and certification services in addition to auditing, consulting, sourcing, and training services for the chemical, construction and engineering, energy and commodities, food and healthcare, transportation, and hospitality and tourism industries. In July 2021, Intertek acquired JLA Brazil, a leading provider of food, agri and environmental testing solutions. The aim of this acquisition is to enter the fast-growing agri-food and beverage testing market in Brazil.
The Europe region is the dominant market for dairy testing and is expected to experience the fastest growth only second to Asia-Pacific. The major producers of milk in the EU region are Germany, France, Poland, the Netherlands, Italy, and Spain. Together these countries account for around 70% of the total milk production. Globalization has increased the international trade of milk and dairy products and has had a major impact on global dairy supply. However, the increase in trade has resulted in higher risk of contaminated milk and dairy products reaching dairy producers and processors, and end consumers in distant markets due to instances of cross-contamination, exposure to toxins, microorganisms, and other contaminants. Manufacturers have been using dairy testing services to ensure safety and quality of their products and to comply to the international standards.