Disclaimer:
This is a user generated content submitted by a member of the WriteUpCafe Community. The views and writings here reflect that of the author and not of WriteUpCafe. If you have any complaints regarding this post kindly
report
it to us.
What is the cost of a wedding in Bali? This is the most frequently asked question by couples who are planning their wedding in Bali. Is this what you too're looking for? Well, Read more to find the answer.
Bali is one of the foremost romantic places in the world. Their beautiful island welcomes thousands of visitors every year and each guest is touched by the one-of-a-kind Bali magic that keeps many of them coming back again.
With its unique blend of beauty, culture, and spirituality, a blend of powdery white sandy beaches, and some dramatic black sand beaches from the volcanic rocks to phenomenal cliff edge coastline with jagged rock formations. The Indian Ocean offers powerful waves and an underwater world full of amazing sea life, crystal clear waters perfect for surfing, swimming, and snorkeling. All of these dreamy things would require you to have a perfect Bali wedding budget and for this, we have all the information you'll ever need.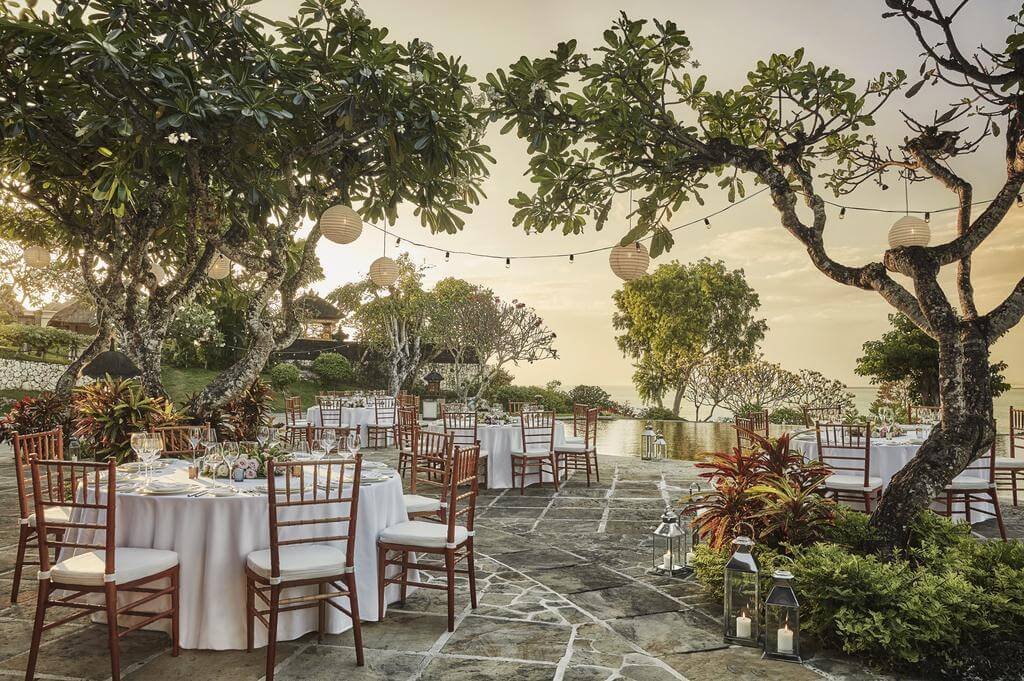 Brides look utterly beautiful with their sun-kissed skin, beaming smiles, and a gentle breeze blowing through their hair. Bali weddings are truly what dreams are made of. Whether you are looking for an oceanfront wedding, a clifftop ceremony, or a secluded waterfall romance, Bali has it all. Every corner of this amazing island seeps romance. The setting of the sunbeams out magical colors that seem to shine love and warmth onto everyone.
Today, it's not just about perfect dress walking down the aisle or sitting at a picturesque mandap at a breathtaking venue, surrounded by loved ones, which is equally important. Some even offer helicopter rides for you to really 'make a grand entrance'
The locals are helpful when putting together an Indian wedding abroad combining the Balinese culture and food will be such a treat! You can incorporate fun elements ranging from Balinese dancers to Balinese temple-themed decor in your wedding and it'll look seamlessly accomplished. Take a look at the costs below and curate the perfect Bali wedding budget.
Learn more about: 
The average cost for a destination wedding in Bali is around INR 7,18,785 to 14,37,580 for a gathering of approximately 100 guests. However, the cost may vary depending on the location of the wedding.
Bali's is cheap but it isn't that cheap. Like any wedding and party, the cost of a Bali wedding can vary greatly counting on where you opt to possess it and what sort of function you would like to have, and the number of people attending.
Fortunately, the climate is favorable throughout the year. However, if you want to pick the best time for your wedding, then the months from April to October are best.
The cost for a wedding in Bali in a villa or such venues will be somewhere between 1200 USD to 3000 USD per night – for the whole villa and hotels 2000 USD to 3000 USD in 5-star hotels.
What is the cost of makeup & hair styling for a wedding in Bali?
For most Bali, makeup & hair professionals expect to pay in the range of 80 USD – 150 USD for one-time makeup and hair.
Expect the value of a Bali Wedding with a spiritual ceremony, civil registry, and every one the related bureaucracy between 700 USD – 1000 USD. Those fees can vary slightly depending on what country you are from. So, you can get legally married in Bali with your Bali wedding recognized in your home country.
A wedding photographer for 3-5 hours including a photo album and all photos on the disc will cost you somewhere between 500 – 800 USD.
Bali Wedding Catering prices are varying and depend on your wedding venue with a limited alcohol selection you will need to pay at least 50 USD – 60 USD per guest. Whereas if you want to have top-class food and a free flow of drinks including imported liquor expect to pay somewhere between 120 USD to 200 USD per head.
The majority of Bali wedding chapels will cost you between 3000 USD – 4500 USD inclusive of decoration, priest, and legal services.
https://blissfulplans.com/a-bali-wedding-cost-and-budgetary-details/
0