Disclaimer:
This is a user generated content submitted by a member of the WriteUpCafe Community. The views and writings here reflect that of the author and not of WriteUpCafe. If you have any complaints regarding this post kindly
report
it to us.
The wearable patches market is in the developed phase. Having an end-to-end platform for services and AI algorithms for wearable patches for better clinical outcome are some of the major opportunities in the global wearable patches market.
The global wearable patches market was valued at $8,650.0 million in 2021 and is projected to reach $26,892.7 million by the end of 2031. Furthermore, the market is anticipated to grow at a CAGR of 11.06% during the forecast period 2022-2031. The market is driven by factors such as the continuous monitoring and minimum interference with body movement for measurement of vital signs of patients, increasing prevalence of chronic disorders (diabetes, strokes, etc.), rising technological advancement (increased connectivity with cell phones and precise data), and growing geriatric population.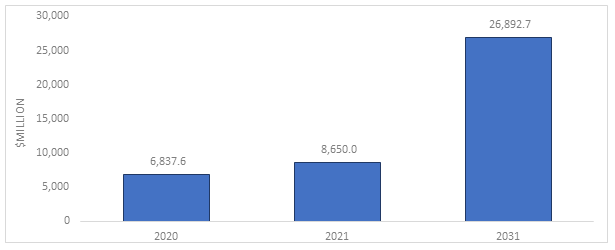 Recent Developments in the Global Wearable Patches Market
•    In September 2022, Senseonics announced a collaboration with the University Hospitals Accountable Care Organization (UHACO) in Cleveland, Ohio.
•    In June 2022, Abbott announced that it is developing a new biowearable, "Glucose-Ketone Monitoring System" that will continuously monitor glucose and ketone levels in one sensor.
•    In June 2022, Blue Spark Technologies Joined Medidata's Sensor Cloud Network , which aims to overcome barriers limiting the full adoption of medical sensors––including data integration and standardization.
•    In May 2022, BioIntelliSense introduced the BioButton Rechargeable Wearable Device for Continuous Medical Grade Monitoring of 20+ Vital Signs and Biometrics, a new product from BioIntelliSense.
•    In April 2022, Blue Spark received a $40M funding for remote monitoring wearables.
•    In April 2022, Carevive Systems and Blue Spark Technologies partnered to conduct Real-Time Remote Patient Monitoring Pilot.
•    In April 2022, Insulet launched New Omnipod 5 System Data for Type 1 and Type 2 Diabetes.
Demand – Drivers and Limitations
Following are the drivers for the global wearable patches market:
•    Continuous Monitoring and Minimum Interference with Body Movement for Measurement of Vital Signs of Patients
•    Increasing Prevalence of Chronic Disorders (Diabetes, Strokes, etc.)
•    Rising Technological Advancement (Increased Connectivity with Cellphones and Precise Data)
•    Growing Geriatric Population
The market is expected to face some limitations as well due to the following challenges:
•    High Cost and Lack of Adequate Reimbursement Limiting the Adoption of Wearable Patches
•    Concerns Regarding Data Privacy and Security of the Data Collected from Wearable Patches
Key Market Players and Competition Synopsis
The companies that are profiled have been selected based on inputs gathered from primary experts and analyzing company coverage, product portfolio, and market penetration.
Some of the prominent names in this market are:
•    Abbott Laboratories
•    Bittium Corporation
•    Boston Scientific Corporation
•    iRhythm Technologies, Inc.
•    Koninklijke Philips N.V.
•    Masimo Corporation
•    Medtronic plc
•    OMRON Corporation
•    Senseonics Holdings, Inc.
•    Alio, Inc.
•    AliveCor Inc.
•    BioIntellisense, Inc.
•    Samay
•    Theranica Bio-Electronics Ltd.
•    VitalConnect Inc.
•    VivaLNK Inc.
Companies that are not a part of the aforementioned pool have been well represented across different sections of the report (wherever applicable).
Get Free Sample Report – https://bisresearch.com/requestsample?id=1416&type=download
How can this report add value to an organization?
Usage Type: The usage type segment helps the reader understand the different usage type of wearable patches available in the market. Moreover, the study provides the reader with a detailed understanding of products that fall under the main segments such as blood glucose patch, heart rate and ECG patch, temperature patch, TENS and EMS patch, and others.
Growth/Marketing Strategy: The wearable patches market has witnessed major development by key players operating in the market, such as product launches, business expansions, partnerships, collaborations, merger and acquisitions, funding activities, and regulatory and legal approvals. The favored strategy for the companies has been business expansions, partnerships, and collaborations to strengthen their position in the market. For instance, in September 2022, Senseonics announced a collaboration with the University Hospitals Accountable Care Organization (UHACO) in Cleveland, Ohio.
Competitive Strategy: The key players in the wearable patches market analyzed and profiled in the study involve established and emerging players that offer different products for wearable patches. Moreover, a detailed competitive benchmarking of the players operating in the wearable patches market has been done to help the reader understand the ways in which players stack against each other, presenting a clear market landscape. Moreover, comprehensive competitive strategies such as partnerships, agreements, collaborations, mergers, and acquisitions will help the reader understand the untapped revenue pockets in the market.
0