Disclaimer:
This is a user generated content submitted by a member of the WriteUpCafe Community. The views and writings here reflect that of the author and not of WriteUpCafe. If you have any complaints regarding this post kindly
report
it to us.
Kinky hair, also known as yaki hair, is a form of weave hair that is tightly plaited, twisted onto small metal rods, and heated in an oven to create a thicker "kinky" or "yaki" texture similar to typical afro relaxed hair. This can vary in thickness depending on how the technique is done and is a very natural look for afro ladies. The distinction between kinky hair and yaki hair is that kinky hair is plaited more loosely and with thicker rods, giving it the impression of unrelaxed natural afro hair. This is what is frequently referred as as "kinky" or "kinky straight," and it looks quite natural. People see kinky straight hair as thicker and having more hair. One of the most well-liked hair textures in the world today is kinky straight weave, sometimes referred to as a blowout straight weave.
Steam treatment on kinky straight hair doesn't make it lose its shine or smoothness. This hair is washable, straighten able, and may be curled. If you flat iron, curl, twist, and style your hair with the kinky straight extensions, it will look amazing. If you're seeking for virgin hair extensions to improve the length, volume, and lovely natural look of your own hair, our naturally kinky straight hair is the perfect option.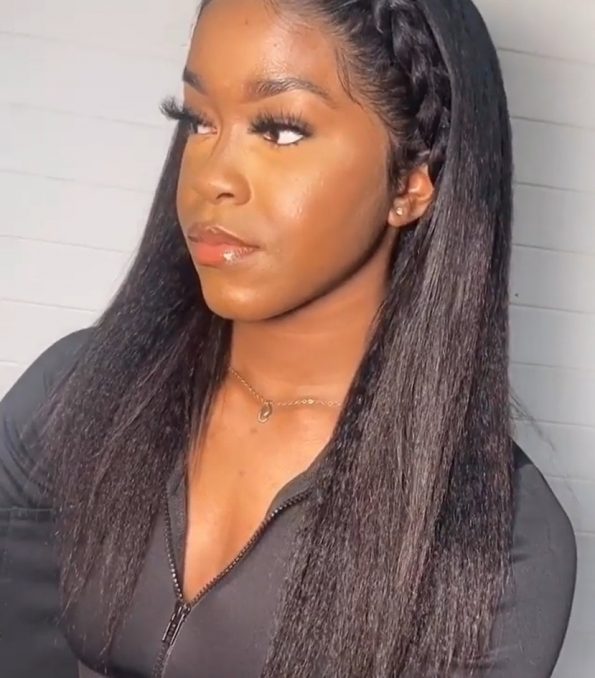 The benefits kinky straight hair weave.
Here are a few more reasons why we should select the kinky straight weave hair in addition to the fact that it is gorgeous.
1. To start, having kinky straight hair gives you additional styling possibilities.
Persons with kinky straight hair have additional alternatives. Your kinky straight hair will readily conform to whatever changes you make to your hairdo or color for everyday use, whether they are basic or elegant.
2. It's easy and pleasant to wear kinky straight hair wig or weave.
Because kinky straight hair is known for being delicate and feather-light, applying it to your hair won't make you feel strange or as like there is anything alien in your hair.
3. Straight kinky hair may help you seem more natural.
The fluffy texture of kinky straight hair helps you appear more laid-back and allows you to experiment with different hairstyles. It resembles its own hair because it imitates African Americans' hair. It has an outstanding appearance. Try utilizing kinky straight hair if you want to give your hair a new lease of life and the possibility to be admired and gorgeous. I guarantee you that it will not disappoint you.
How should I wash my kinky straight hair?
Do you consider washing your kinky hair to be a difficult task? Not to worry! Every single technique has a method for making it simpler! The same goes for shampooing curly, kinky hair.
You may modify your washing routine to better suit your demands based on the length and density of your hair, which will speed up and improve the way your hair is washed.
Brush your hair. Make the shampoo function more smoothly by adding some conditioners. By softening, the hair gains additional nutrition and is also simpler to comb.
Wash your hair in step two. While shampoos are excellent for keeping your hair clean, many of them include unpleasant sulfate chemicals that can strip your hair of the vital natural oils needed for healthy, glossy hair. This is the reason I choose a sulfate-free shampoo. Shampoo should be washed after wetting your hair. Once again, comb the hair and repeat to help make it softer.
Apply some hair conditioner. Your hair's suppleness and gloss will be improved.
Blow-dry your hair. Note: Complete drying is not permitted. Cleaning the scalp of all surface dirt should be the main goal of shampooing. No doubt. You'll find your own path if you frequently wash your hair. Try each technique to see one works best for you.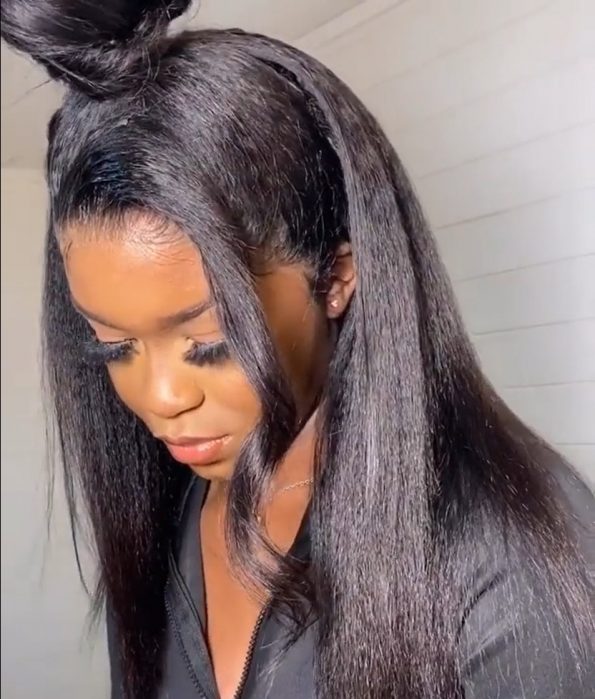 Care advice for kinky straight hair:
I. Keep the kinky straight hair out of the sunlight; if exposed to the sun, it will lose its natural color.
II. Avoid sleeping with a wig on as it may result in hair breakage, hair loss, and tangles.
III. It's natural for your kinky straight hair to fall out over time.
IV. To prevent damage to kinky straight hair, stay away from chlorinated water, salt water, and hot water. Your kinky straight hair has to be taken care of correctly in order to have the longest life and the greatest appearance. Your kinky straight hair needs just attention and delicate care to be kept clean and maintained.
0