Disclaimer:
This is a user generated content submitted by a member of the WriteUpCafe Community. The views and writings here reflect that of the author and not of WriteUpCafe. If you have any complaints regarding this post kindly
report
it to us.
The global
coconut oil market
is estimated to be valued at USD 5.4 billion in 2022. It is projected to reach USD 7.5 billion by 2027, recording a CAGR of 5.5% during the forecast period. Coconut oil is a yellowish-white solid or semi-liquid available in the form of edible oil. It is extracted from the wick, meat, and milk of the coconut palm fruit and has a low percentage of unsaturated fatty acids and is up to 90% saturated fat with no cholesterol content. The types of coconut oils available in the industry can be classified as RBD, virgin, and crude serving various applications in the field of food & beverages, cosmetic, pharmaceuticals and many others.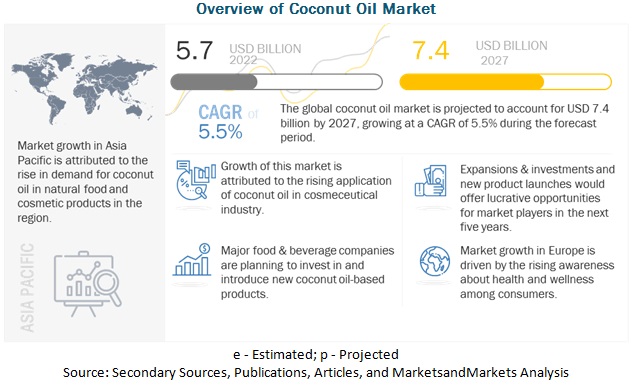 Key players in this market include Cargill (US), Archer Daniel Midlands Company (US), Bunge Limited (US)
Cargill is engaged in the manufacturing and marketing of food ingredients, risk management, agricultural products, financial and industrial products, and services worldwide. The company covers 75 businesses under its four major categories: food ingredients & application, animal nutrition & protein, origination & processing, and industrial & financial services. The company offers coconut oil under the food ingredients & application segment. Cargill functions in 70 countries through its subsidiaries and affiliates. The subsidiaries through which Cargill works include The Mosaic Company (US), NatureWorks LLC (US), and The Wilbur Chocolate Company (US).
Archer Daniel Midlands Company (ADM) Archer Daniels Midland Company (ADM) is primarily engaged in producing food ingredients, animal feed & feed ingredients, biofuels, and naturally derived alternatives to industrial chemicals. The company operates through four business segments: agriculture services and oilseeds, carbohydrate solutions, nutrition, and others. ADM offers coconut oils under its food & beverage solutions segment. Coconut oil from ADM offers a great-tasting, fast melting option with various uses as it contains medium-chain fatty acids found in medium-chain triglycerides (MCT). The company consists of more than 800 plants, 321 food & feed processing facilities, 61 innovation centers, and 449 crop procurement locations globally. It has an extensive transportation network to procure, store, clean, and transport agricultural commodities.
Bunge Limited is a leading global agribusiness and food company with integrated operations that stretch from farmer to consumer. The company has divided its business into five segments, namely, agribusiness, refined and specialty oils, milling, sugar and bioenergy, and plant proteins. The refined and specialty oils segment comprises businesses that sell vegetable oils and fats, including oils shortenings, margarine, mayonnaise, and specialty ingredients. The company offers coconut oil under the refined and specialty oils segment. Bunge Limited has more than 300 port terminals, oilseeds processing plants, grain facilities, and food and ingredient production and packaging facilities around the world.
North American coconut oil market is completely driven by the US market. The US coconut oil industry has witnessed technological advancement, which has increased its usage in various industries. In the US, coconut oil is primarily used in organic form in the confectionery products a s a health beneficial. It is also used as a base for gelling agents in confections, for thickeners in products such as pastry and pie fillings, and in instant puddings. The growing trend of ready-to-eat meals and processed food is also driving the coconut oil market in the region. Coconut oil is frequently used in food applications due to its functional properties.